Our Story
Once Upon A Time...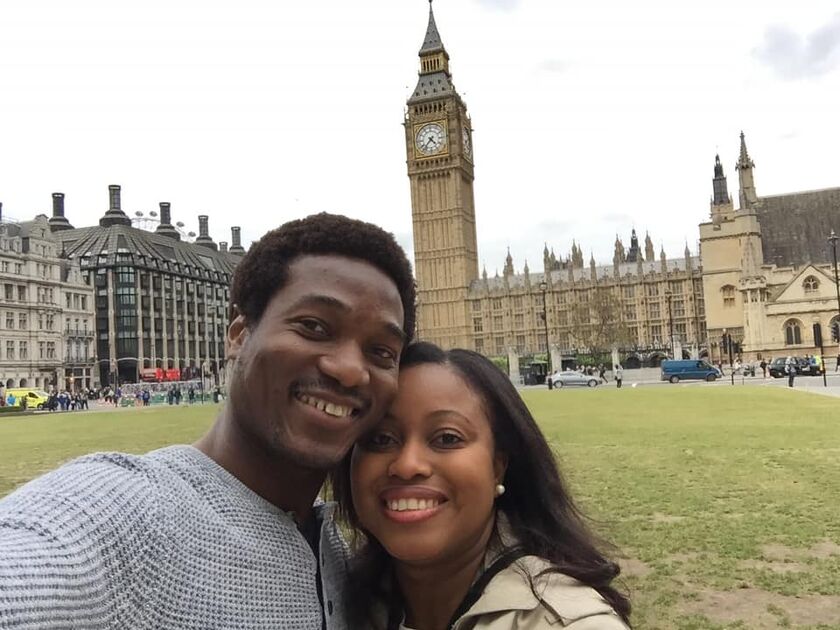 It was the year 1999. There was a young girl Ifreke living in Lagos, Nigeria after completing high school, and a young man Obichime working in the same ever bustling city of Lagos. She was 16 going on 17 and he was 21 going on 22. He was a Mathematics & Computer Science major in college. He was doing an internship at a firm that offered IT solutions to companies as well as training to individuals seeking to become computer literate.
OBI:
On a bright weekday afternoon in October, I remember a beautiful slim girl accompanied by her sister entered the computer training center to inquire about taking computer courses. After speaking to my boss, she got enrolled and received a start date for the following Monday.
Monday morning dawned and so did a new chapter in our lives. She had caught my attention and I found myself drawn to her and distracted over the course of the computer training sessions. We cultivated a beautiful friendship that morphed into a budding new relationship and it added a lot of excitement to my otherwise boring student life.
I introduced her to my extended family that I lived with in Lagos and she was loved by everyone. I knew that I had found something very special. After three incredible months, I completed my internship and returned to my University in another city hours away. We kept in touch by letters, periodic phone calls (sometimes with pay phones, no cellphones at the time!) and saw each other again on my occasional visits to Lagos. Ifreke ultimately completed her course and became proficient in computer use, a necessity for her upcoming immigration to the United States...
August 4, 2000.. a day I would never forget. Ifreke was leaving Nigeria to the United States to begin a new life there with her family. I was not prepared for the void it would leave in my life. With the love we had for each other, we parted with promises to stay in touch and keep the flame of our young love burning, until we can meet again...
... but distance, time and life eventually took a toll on us and we broke up after several months. It brought great pain and sadness to my youthful heart. I held onto memories of our love for comfort and continued to hope that we may someday reunite. We subsequently both moved on with our lives and had little to no contact for some time. Then Facebook happened...
IFREKE:
From 2006 - December 2016, indeed thanks to Facebook we began communicating again albeit sparsely about once or twice a year. We were both involved with other people and busy with school or work but exchanged a few messages periodically. I learned that he had moved to London, England in 2006, completed a Masters in Information Technology and working at an energy firm Orsted. I shared about the stresses of my long journey to a career in medicine and he was ever the caring gentleman I knew. Little did we know what the future had in store for us...
On New Year's Day 2017, I received a Happy New Year message from Obi, as he had done every year since Facebook started. This time, we both happened to be single at the same time. Then came February 14, and I got a lovely Happy Valentine's Day message. Just like that, we were talking again and it was a breath of fresh air given our history.
These chats soon led to deeper conversations that revealed that he was not over me! :) We reminisced about our time together during our youthful days in Nigeria and rekindled our friendship. We realized that we still had a lot of love for each other and within a few months, I was on my way to London.. we saw each other again after 17 years! It was quite a happy moment for us! We got back together shortly after and found ourselves reopen the chapter we had left behind, this time as two mature adults learning more about each other. We have shared good and bad times, including a period of grief after Obi's father passed away in September 2017, just few months after we reunited. Through it all, we found support and strength with each other. On March 5, 2019, Obi proposed and I said YES!
Our love story has spanned two decades from 1999 - 2019 and three continents, Africa, North America and Europe. It has not been easy but we have made it here and are looking forward to creating a great life together. We have enjoyed a lot of wonderful experiences together such as traveling, outdoor activities, spending time with family, friends and my cute little dog Lily. We are so happy to share our joy and this special day with you at my favorite place.. the Beach!
The Wedding
Saturday, October 19, 2019
4:00 PM
Attire: Semi-formal or Nigerian attire, comfortable dancing shoes.. ladies, pencil heels not recommended.. wear wedge, flat sandals or block heels.
Ceremony
Sand Key Park
1060 Gulf Blvd, Clearwater, FL 33767, USA
Reception
Sand Key Park, Gulf Boulevard, Clearwater, FL, USA
The wedding ceremony and reception will be held outdoors. In case of inclement weather/rain, we will move the ceremony to a backup covered site nearby.
Parking: Plenty of space available - $5 per car
Direction: Walk down Boardwalk #3 and follow the signs
Other: Kids of all ages are welcome. This is a non-smoking event and venue, no exception. Bring an umbrella!
Other Events
Rehearsal Dinner & Welcome Party
Friday, October 18, 2019
5:00 PM
Davis Islands Garden Club
81 Columbia Dr, Tampa, FL 33606, USA
5 - 8pm: We are hosting a rehearsal dinner get-together with our families and wedding party on the evening before the wedding.
8 - 10pm: Other guests in town please join us for a welcome party!
Dress code: Casual
Wedding Party
Dr. Patrick Bassey Williams - Father of the Bride
Mrs. Ursula U Williams - Mother of the Bride
My ever sweet beautiful mother.
Dr. Nadine Thompson - Matron of Honor
Close friend of the Bride from medical school
Dr. Magali Tshiamala - Bridesmaid
Close friend of the Bride
Dr. Vanessa Onyejiaka - Bridesmaid
Close friend of the Bride from residency
Dr. Jennifer Rajkumar - Bridesmaid
Close friend of the Bride from medical school
Amaka Awunor - Bridesmaid
Lily Furball - Ring Bearer
Bride's little furry friend and companion for almost 7 years.
Olivia N Liley - Flower Girl
Niece of the Groom. Little Olivia Pope.
Emily Osuruaka - Flower Girl
God-daughter of the Bride
Elizabeth A. Awunor - Mother of the Groom
James George Jr - Groomsman
Childhood friend of the Groom
Edemeka Imoh Edemeka - Groomsman
Course mate, Room mate and Friend of the Groom since university
Kenna Ofoegbu - Groomsman
Friend of the Groom since university
Ubong Atiata - Groomsman
Nephew of the Bride. Prince Melo
Sindre Awunor - Page Boy
Little Lord Sindre. Nephew of the Groom. Modern day super hero.